Long, Eyebrow Bangs 1 | 2 | 3 | 4 | SEE NEXT Long Bangs

We named these the Eyebrow bangs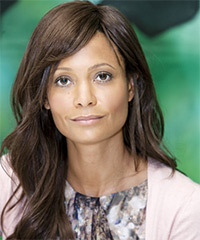 because they are long, full and right at or below the eyebrow. These types of bangs are gaining popularity today.

The bang is sometimes worn very long and practically covers the eyes. This type of bang is sometimes called the Seventies Sexy Bang. This type of bang is best suited for face shapes that are narrow, heart or pear shaped.

See more examples of the long, full eyebrow bang-follow link at bottom of page.

The long full eyebrow bang can widen a very narrow face shape. They can also be used to hide a very high forehead.

Check out our Fact-filled Ebook on every aspect of getting hair extensions

Anne Hathaway is also wearing a full bang that ends just past her eyebrows.

This length will require frequent trims to keep the bangs looking good. You can style the bangs under, like Anne, or brush them aside and wear them as side-swept bangs.

And if you get tired of the bangs, they are long enough to style them in with your longer hair using hair gel or other hair care products with holding power.