Long, Eyebrow Bangs 1 | 2 | 3 | 4 | SEE NEXT Long Bangs
Heidi Klum is another example of a hair style with long eyebrow length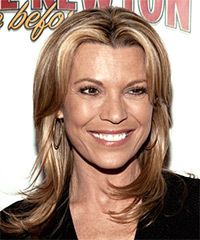 bangs Notice how Heidi has positioned her bangs so that the your The eyebrow bang draws attention immediately to her eyes. The bangs make her eyes really stand out.
The eyebrow bang draws your attention immediately to the eye area. This type of bang can be flattering for just about any face shape. Ask your stylist if bangs would look good with your current hair style. Jagged and razor cut ends makes this hairstyle all about texture. Medium to long layers frame under her jaw-line to create a perfect shape. Long bangs are added to the top of the face to complete her look.
Another great option to consider is trying bangs on before you get them cut. The big stumbling block for many women is the fact that cutting bangs means you will have to grow them out at some point in the future when they perhaps aren't in style any more.
Software imaging programs now allow you to upload your own photo and try on bangs or any other hairstyle before you actually get them cut. See for yourself exactly how you will look and feel confident at your salon visit that your haircut will turn out good. See Makeover solutions, banner left, for more details about this great new program.
This was a smooth and seductive look . Her hair length was left to fall over her sexy shoulders and wispy cut layers were added through her front section to form a sweet frame along her jaw-line. To finish her look, blunt cut bangs were added.

How to Style:
Apply mousse to damp hair then blow-dry the top section straight. Leave the mid lengths and ends in curls by scrunch drying them and use hot tongs throughout if you need some extra curl. Finish the style with smoothing shine and hair spray for hold.