BANGS HOME
A while back, Hilary Duff was wearing long eyebrow bangs. She has switched back and forth between this type of bang and the side-swept bangs.
To create the extra smooth finish, like Hilary Duffs', you can run a flat iron over your hair from the roots to the ends.
Another great hair care product to use is the shine serum. Apply a small amount of shine serum all over the hair for that extra shiny, healthy hair look.
The long bang is one that needs frequent trims. If you don't keep up with the length of the bang, the bangs will quickly become quite annoying.
Trimming your bangs at home is very easy to do. If you are not comfortable cutting your own hair, you can go back to the salon every 4 weeks for just a bang trim. Some salons offer this as a free service.
Michelle Stafford's silky smooth mane had the cameras clicking at the Valkyrie Los Angeles premiere. Her length was blunt cut to maintain crisp edges while her front section had wicked wispy layers starting from under her jaw line for a sexy, soft finish.

How to Style:
Apply mousse to damp hair, then blow-dry using a medium radial brush for body. Smooth shine the top layers for gloss, then lacquer over the rest for hold.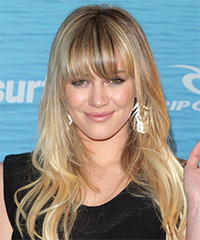 This golden glossy hairstyle is blow-dried smooth allowing soft movement at the ends to give this simple yet sexy style shape and style. The long bangs are worn down to frame the top of the face beautifully and completes the over-all look beautifully.